Nexion's strong quarter of continued increases in operating profit and recurring revenue have put the company in a strong position to achieve profitability.
Global cloud service provider Nexion Group (ASX:NNG) has reported its highest quarter revenue since inception, delivering a sixth straight quarter of growth.
Nexion generated total Q1 revenue of $2.25m, up 13.9% on the previous quarter and 80.02% on the pcp, while annual recurring revenue (ARR) for the quarter was up 12.6% to $1.79m, to its highest ever at $7.12m.
Sales grew strongly with over $2.8m in aggregate Total Contract Value (TCV) signed in Q1 as the company delivered its full suite of services to a host of new customers.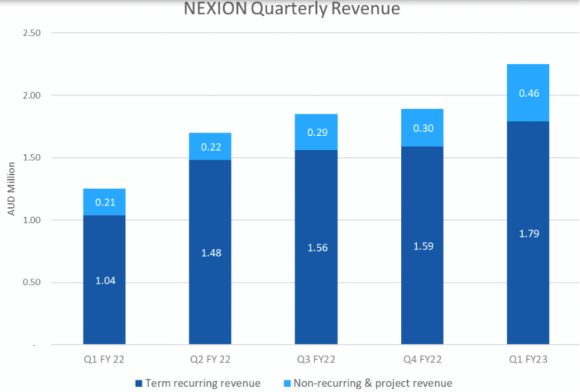 The strong revenue growth along with cost optimisation has driven net cash consumption to its lowest ever as the company moves rapidly toward cash-positive.
Nexion also has a growing pipeline of potential acquisitions  to expand its footprint into New Zealand and beyond.
'Upward revenue trend to continue'
The company's organic growth continues to improve with each quarter, resulting in quarterly revenue reaching its highest level since inception.
TCV and monthly contracted revenue hit their highest marks ever as customer contract renewals and service extensions were consumed from partners such as IBM.
During the quarter, the satellite division experienced significant customer expansion of LEO and GEO satellite services into the Northern Territory, The Murchison, Mt Magnet, and Gascoyne regions in Western Australia.
The company has also seen a strong increase in managed services, with the extension of contracted services into full cloud managed services, disaster recovery and backup as well ITIL process management and mapping.
Nexion expects strong growth in this division as it moves to grow it on a multi-site international scale.
The recent increase in cyber security risks has provided Nexion the opportunity to forge  partnerships with leading cyber security companies such as Fortinet – and as a result of these new pipelines, Nexion  anticipates this upward revenue trend to continue.
Expansion and acquisitions
Nexion has continued to progress the proposed acquisitions of Aiscorp and Silicon Systems to create a larger, profitable group of companies.
The pipeline of potential additional acquisitions is expanding in Australia and Canada in preparation for completion in the second half of the year.
These strategic acquisitions will offer skills that complement Nexion's current capabilities and support the ever increasing services demanded by its growing list of global clients.
In New Zealand, Nexion has partnered with key global data storage vendor, Netapp, to build a storage- as-a-service model, leveraging the success of this strategy in Australia.
The New Zealand team is developing a strong pipeline of opportunities locally and on the East coast of Australia.
Leaner operations
With the addition of significant new business in Q1 and continued optimisation of costs, cash consumption for the group was substantially lower in September compared to the first two month of the quarter.
Nexion expects this trend of higher revenue and lower costs to continue into Q2, with profit trend moving in a positive direction as we progress through the financial year.
The completion of the cost rationalisation process from earlier acquisitions has now been successfully completed, and the company expects the final savings to flow through to the bottom line in Q2.
Looking ahead, Nexion says it will continue to pursue its objective to deploy Hybrid Cloud and managed connectivity services in eight global regions.